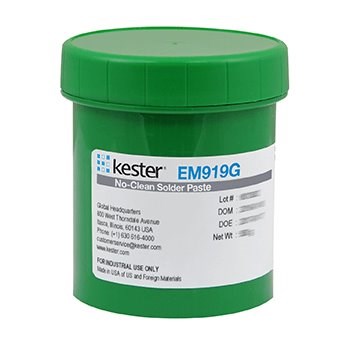 EM919G Solder Paste
---
For current pricing and to place an order please contact us.
---
Description
Kester EM919G is a lead-free, halide-free, air and nitrogen reflowable, no-clean solder paste specifically designed for the thermal requirements of lead-free alloys, including SAC387 and SAC305. EM919G exhibits continual printability for fine pitch components (0.4mm/16mils) and is able to print at high speeds up to 6in/s (150mm/s). EM919G offers an excellent cosmetic appearance in the reflowed solder joints with smooth surfaces and light colored residues that closely resemble tin-lead solder joints. In addition, EM919G produces test probe friendly post soldering residues. EM919G is classified as ROL0 under IPC JSTD-004 and ROM0 under IPC JSTD-004B.

Due to changes in REACH Regulations, this product is no longer sold into Europe or to European customers.
Product Details
Other Products